Today's Gospel reading is a popular choice for funeral Masses. In fact, I intentionally chose this Gospel for my grandma's funeral over three years ago. It's comforting to hear that God has prepared a dwelling place for our loved ones who pass away. The imagery in this passage helps us to imagine that, even though our loved one is no longer with us, he or she will still be taken care of.
For these reasons and more, this Gospel is also great for the Easter season. We have this hope for our loved ones who have gone before us because of Jesus' Resurrection. That is what we celebrate in this 50-day liturgical season.
Suffering and death were never a part of God's original plan for humanity. We were supposed to live in perfect love and union with God forever and ever, like Adam and Eve in the Garden of Eden. However, original sin entered the garden and suffering and death entered into our lives as a result.
We all have had and will continue to have personal experiences with suffering and death, so the question is, how can we invite God to be part of those experiences, those times of great difficulty?
Our Catholic faith gives us a great gift during those difficult times and that is the Resurrection. When Jesus died and rose from the dead, He conquered sin and death and opened up the gates of Heaven for us. We have the hope and promise of eternal life because of Jesus' Death and Resurrection. And we have this hope not only for ourselves but for all of God's people. This hope gives us peace and an assurance that there is a purpose and meaning for our suffering.
Let us always keep the Resurrection in our sights. We cannot separate the pain and suffering of His Passion from the glory of His Resurrection. Nor should we separate our own personal pain and suffering from the greater purpose that God has in store for us, because it is always for our greater good and His glory.
---
La lectura del Evangelio de hoy es una opción popular para los funerales. De hecho, elegí intencionalmente este Evangelio para el funeral de mi abuela hace más de tres años. Es reconfortante escuchar que Dios ha preparado una morada para nuestros seres queridos que han fallecido. Las imágenes de este pasaje nos ayudan a imaginar que, aunque nuestro ser querido ya no esté con nosotros, Dios lo cuidará.
Por estas razones y más, este Evangelio también es excelente para la temporada de Pascua. Tenemos esta esperanza para nuestros seres queridos que nos han precedido debido a la Resurrección de Jesús. Eso es lo que celebramos en este tiempo litúrgico que dura 50 días.
El sufrimiento y la muerte nunca fueron parte del plan original de Dios para la humanidad. Se suponía que íbamos a vivir en perfecto amor y unión con Dios por los siglos de los siglos, como Adán y Eva en el Jardín del Edén. Sin embargo, el pecado original entró en el jardín y como resultado el sufrimiento y la muerte entraron en nuestras vidas.
Todos hemos tenido y seguiremos teniendo experiencias personales con el sufrimiento y la muerte, entonces la pregunta es ¿cómo podemos invitar a Dios a ser parte de esas experiencias, de esos momentos de tanta dificultad?
Nuestra fe católica nos da un gran regalo durante esos tiempos difíciles, la Resurrección. Cuando Jesús murió y resucitó de entre los muertos, venció el pecado y la muerte y nos abrió las puertas del cielo. Tenemos la esperanza y la promesa de la vida eterna gracias a la muerte y resurrección de Jesús. Y tenemos esta esperanza no solo para nosotros sino para todo el pueblo de Dios. Esta esperanza nos da paz y seguridad de que hay un propósito y un significado para nuestro sufrimiento.
Tengamos siempre en mente la Resurrección. No podemos separar el dolor y el sufrimiento de Su Pasión de la gloria de Su Resurrección. Tampoco debemos separar nuestro propio dolor y sufrimiento personal del propósito mayor que Dios tiene reservado para nosotros, porque siempre es para nuestro bien mayor y para Su gloria.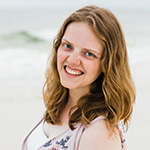 Erin is a Cleveland native and graduate of Franciscan University of Steubenville. She is passionate about the Lord Jesus, all things college sports and telling stories and she is blessed enough to get paid for all three of her passions as a full-time youth minister and a freelance sports writer.
Feature Image Credit: Kelly Sikkema, unsplash.com/photos/mY6cga4GgOI