Today is my boyfriend's birthday, so while reading today's readings I was immediately reminded of our promise to one another: To always speak the truth.
While he and I discern marriage, we've realized just how important it is to have difficult conversations. We've recognized the value of speaking truth, the core of love, to one another even if it is hard to hear. Maybe it's an insensitive joke or maybe it's the frustration and anxieties of learning who we are. No matter what the situation, we have always chosen to focus on communication and communicating truth, even when it is hard to be honest not only with one another, but with ourselves. It might lead to tears, to awkward silences, and frustrated sighs, but at the end, we know that sharing our truths makes us better as individuals and stronger as a couple.
I bring this up because in today's First Reading, Paul and Barnabus speak out the truth that the Jews clearly did not want to hear. They boldly resound the Word of God, the Truth, that there is now also salvation for the Gentiles, not only the Jews. They even go so far as to explain that this is due to the Jews' own actions, saying, "It was necessary that the word of God be spoken to you first, but since you reject it and condemn yourselves as unworthy of eternal life, we now turn to the Gentiles" (Acts 13:46).
Imagine being Paul and Barnabus at this moment.
Imagine the fear.
Now imagine the love that they borrow from the Lord before opening their mouths.
I say "love" because as the apostle St. John tells us in 1 John 4:18, "There is no fear in love, but perfect love casts out fear." As humans, we fear the truth because it is difficult to share. There are stigmas, perceptions, and judgements we fear that keep us from sharing the truth.
Maybe you don't wear your cross necklace because you don't want people to consider you a "Jesus freak" in these times of hostility towards Christians. Maybe you laugh along and call your Sunday Mass obligation boring because your friends said it first. Maybe you are avoiding a conversation with someone because you are afraid to tell them you don't agree with their actions.
Maybe you are avoiding the Lord because your own actions are not in line with Him.
No matter the reason, no matter the situation, we must borrow the love from the Lord so we are not afraid of the Truth because we know that through Him, we are always offered forgiveness and salvation, should we just turn to Him.
Stop to take a moment to consider your fears and hushed truths.
Now, in striving for perfect love, lean on the Lord and speak the truth without fear.
---
Hoy es el cumpleaños de mi novio, así que mientras leía las lecturas de hoy me acordé de inmediato de nuestra promesa mutua: decir siempre la verdad.
Mientras él y yo discernimos el matrimonio, nos hemos dado cuenta de lo importante que es tener conversaciones difíciles. Hemos reconocido el valor de decir la verdad, el núcleo del amor, el uno al otro, incluso si es difícil de escuchar. Tal vez sea una broma insensible o tal vez sea la frustración y la ansiedad de llegar a conocer quiénes somos. No importa cuál sea la situación, siempre hemos optado por centrarnos en la comunicación y comunicar la verdad, incluso cuando es difícil ser honestos, no solo con los demás, sino con nosotros mismos. Puede provocar lágrimas, silencios incómodos y suspiros de frustración, pero al final sabemos que compartir nuestras verdades nos hace mejores como personas y más fuertes como pareja.
Menciono esto porque en la Primera Lectura de hoy, Pablo y Bernabé dicen la verdad que los judíos claramente no querían escuchar. Resuenan con audacia la Palabra de Dios, la Verdad, que ahora también hay salvación para los gentiles, no sólo para los judíos. Incluso llegan a explicar que esto se debe a las propias acciones de los judíos, diciendo: "La palabra de Dios debía ser predicada primero a ustedes; pero como la rechazan y no se juzgan dignos de la vida eterna, nos dirigiremos a los paganos." (Hechos 13:46).
Imagina si fueras Pablo o Bernabé en este momento.
Imagina el miedo.
Ahora imagina el amor que piden que el Señor les dé antes de abrir la boca.
Digo "amor" porque como nos dice el apóstol San Juan en 1 Juan 4:18, "En el amor no hay temor, sino que el amor perfecto echa fuera el temor". Como seres humanos, tememos la verdad porque es difícil de compartir. Hay estigmas, percepciones y juicios que tememos que nos impiden compartir la verdad.
Tal vez no utilices tu collar con cruz porque no quieres que la gente te considere un "fanático de Jesús" en estos tiempos de hostilidad hacia los cristianos. Tal vez te ríes y dices que tu obligación de ir a la misa dominical es aburrida porque tus amigos lo dijeron primero. Tal vez estás evitando una conversación con alguien porque tienes miedo de decirle que no estás de acuerdo con sus acciones.
Tal vez estás evitando al Señor porque tus propias acciones no están en línea con Él.
No importa la razón, no importa la situación, debemos pedir que el Señor nos regale su amor para no tener miedo de la Verdad porque sabemos que a través de Él, siempre se nos ofrece el perdón y la salvación, si se lo pedimos.
Detente y toma un momento para considerar tus miedos y verdades silenciosas.
Ahora, en la lucha por el amor perfecto, apóyate en el Señor y habla la verdad sin miedo.
Image Credit: Brett Jordan, unsplash.com/photos/Pd3ml1YRPlg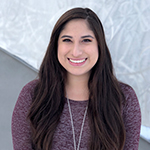 Veronica Alvarado is a born and raised Texan currently living in Pennsylvania. Since graduating from Texas A&M University, Veronica has published various Catholic articles in bulletins, newspapers, e-newsletters, and blogs. She continued sharing her faith after graduation as a web content strategist and digital project manager. Today, she continues this mission in her current role as communications director and project manager for Pentecost Today USA, a Catholic Charismatic Renewal organization in Pittsburgh.