I love how well Jesus knows us. We believe Jesus was fully human and fully divine, but sometimes we have a tendency to lean into one aspect more than the other. For the times you see Jesus as too far away to relate to, more divine than human, consider the last part of our Gospel today. Jesus promises to send an Advocate, the Holy Spirit, who will "teach you everything and remind you of all that I told you" (John 14:26). I don't know about you, but I can barely remember what I had for breakfast yesterday. What a relief it must have been for the disciples to hear they would have help recalling 3 solid years of teaching from Jesus!
Joking aside, what an incredible gift we have received in the Person of the Holy Spirit. For those who have been confirmed, the fullness of the Holy Spirit is dwelling in you right now. The Holy Spirit is with you all the time, gently reminding you of what Jesus has already taught you.
Many might call the voice of the Holy Spirit their conscience. But the Holy Spirit is so much more than that. Your conscience can definitely be formed and informed by the Holy Spirit, but if you have not disciplined it with Truth and the teachings of the Church, even your conscience can lead you astray. This is why we have to examine our conscience prior to receiving the Sacrament of Reconciliation. We are not examining the Holy Spirit for fault, but our own inclinations, attitudes and choices. The Holy Spirit can help us properly examine our conscience and then, along with the grace received in the sacrament, continue to form it according to God's Will.
Reflecting on the role of the Holy Spirit reminded me of another passage of Scripture from the Old Testament. In the Book of Deuteronomy, Moses is exhorting the people that the Word of God isn't too far away, too wondrous to behold, or beyond their grasp. Rather, "it is something very near to you, in your mouth and in your heart, to do it." (Deut 30:14). In some translations, it says "you have only to carry it out."
By the grace of the Holy Spirit, the Word of God is already dwelling within you, waiting for you to have the courage to act upon it. The Holy Spirit is continually speaking to you, pointing you in the direction you ought to go.
I felt the conviction of these words from Deuteronomy so strongly I now have this Scripture reference permanently on my wrist. They are a daily reminder that I need to pause to listen to the Holy Spirit's whisperings and then act upon them with boldness and courage.
---
Me encanta que Jesús nos conozca tan profundamente. Creemos que Jesús era completamente humano y completamente divino, pero a veces tenemos una tendencia a inclinarnos más hacia un aspecto que hacia el otro. Para los momentos en que vea a Jesús como demasiado lejano para relacionarse con él, más divino que humano, considere la última parte de nuestro Evangelio de hoy. Jesús promete enviar un Abogado, el Espíritu Santo, quien "les enseñará todas las cosas y les recordará todo cuanto yo les he dicho" (Juan 14:26). No sé si es lo mismo con ustedes, pero yo apenas puedo recordar lo que desayuné ayer. ¡Qué alivio debe haber sido para los discípulos escuchar que tendrían ayuda recordando tres años completos de enseñanza de Jesús!
Pero hablando en serio, qué don tan increíble hemos recibido en la Persona del Espíritu Santo. Para aquellos que han sido confirmados, la plenitud del Espíritu Santo está morando en ustedes ahora mismo. El Espíritu Santo está contigo todo el tiempo, recordándote suavemente lo que Jesús ya te ha enseñado.
Muchos podrían llamar a la voz del Espíritu Santo su conciencia. Pero el Espíritu Santo es mucho más que eso. Tu conciencia definitivamente puede ser formada e informada por el Espíritu Santo, pero si no la has disciplinado con la Verdad y las enseñanzas de la Iglesia, incluso tu conciencia puede desviarte. Por eso tenemos que hacer un examen de conciencia antes de recibir el Sacramento de la Reconciliación. No estamos examinando al Espíritu Santo por culpa, sino nuestras propias inclinaciones, actitudes y elecciones. El Espíritu Santo puede ayudarnos a examinar adecuadamente nuestra conciencia y luego, junto con la gracia recibida en el sacramento, seguimos formándola según la Voluntad de Dios.
Reflexionar sobre el papel del Espíritu Santo me recordó de otro pasaje de las Escrituras del Antiguo Testamento. En el Libro de Deuteronomio, Moisés exhorta al pueblo a que la Palabra de Dios no está demasiado lejos, ni es demasiado maravillosa para contemplarla, ni más allá de su alcance. Más bien, "es algo muy cercano a ti, en tu boca y en tu corazón, hacerlo". (Dt 30:14). En algunas traducciones dice "solo tienes que llevarlo a cabo".
Por la gracia del Espíritu Santo, la Palabra de Dios ya está habitando dentro de ti, esperando que tengas el valor de actuar en consecuencia. El Espíritu Santo te está hablando continuamente, indicándote la dirección en la que debes ir.
Sentí la convicción de estas palabras de Deuteronomio con tanta fuerza que ahora tengo esta referencia bíblica permanentemente en mi muñeca. Son un recordatorio diario de que necesito hacer una pausa para escuchar los susurros del Espíritu Santo y luego actuar sobre ellos con audacia y valor.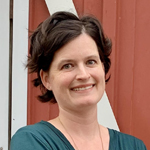 Kate Taliaferro is an Air Force wife and mother. She is blessed to be able to homeschool, bake bread and fold endless piles of laundry. When not planning a school day, writing a blog post or cooking pasta, Kate can be found curled up with a book or working with some kind of fiber craft. Kate blogs at DailyGraces.net.
Feature Image Credit: Mo Eid, www.pexels.com/photo/person-in-black-shirt-walking-on-sand-8347501/